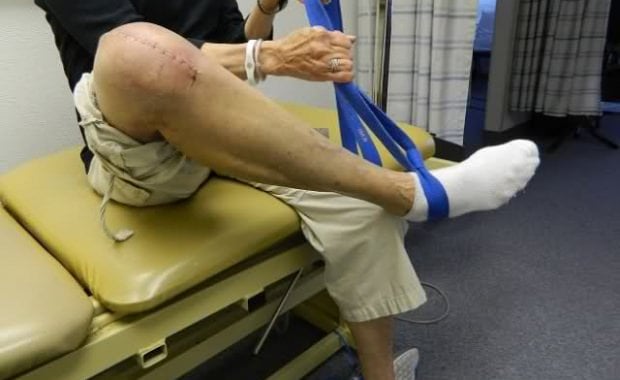 Recovery Time
One of the most common questions asked in our patient forum is "How long does it take to recover from total knee replacement surgery?" Each individual patient and circumstances differ significantly from the next. In most cases, though, a knee replacement patient will rest and rehab for anywhere between three and six months after surgery before being able to return to normal life activities such as work.
More about how long it takes to recover from total knee replacement >>
Pain Management
It may be strange to think of pain management as an important part of the recovery process but it is, in fact, extremely important. Patients should be educated prior to their knee replacement surgery regarding pain, discomfort, medication and other pain management techniques. Efficient use of these techniques can make for a much smoother recovery. We recommend the classic Rest, Ice, Elevate and Medicate approach to pain management.
More about pain management after knee replacement >>
Also See: Reducing post-operative pain after knee replacement surgery >>
Physical Therapy
Physical therapy and/or a home exercise routine can be very helpful in rehabilitation from knee replacement surgery. Building strength and increasing the range of motion are necessary to keeping the knee flexible.
Many physicians in the United States stress the importance of physical therapy during the first six weeks after surgery as an aid to long-term recovery. Physical therapy can improve the range of motion of the knee and assist in transitioning back to normal knee movements used in daily activities.
Generally speaking, knee replacement patients take longer to recover than, say, hip replacement patients. It should still be noted, however, that recovery time for a total knee replacement can differ vastly from patient to patient. It may take eight to twelve months for a knee replacement patient to regain normal range of movement in the joint.
More about exercises & physical therapy after knee replacement >>
Complications
Post-op recovery can be slowed by surgical complications following knee replacement. The risk of complications from surgery is no greater than in any other surgical operation. Patients should be fully apprised of these possible complications (and their probabilities) before consenting to any surgery. Complications can include blood clots, infection, implant loosening, misalignment of implants and popping, knocking or other noises.
Although it is not a simple surgery by any means, knee replacement surgery is a procedure with an extremely high success rate (98%). Even so, you should discuss potential complications with your surgeon based upon your overall health and the degree of osteoporosis debilitating your knee.
More about potential complications in knee replacement >>
Emotional Recovery and Support
Don't forget to address your emotional health as well after knee replacement surgery. Some of the knee replacement patients in the Bonesmart forums experienced a condition often known as "post op blues". This is not uncommon and relates to a short-lived belief that no progress is being made in recovery. As in many aspects of life, a positive attitude and a solid support network (friends, family and/or patient groups) will do wonders to help a total knee replacement patient through the recovery process.
Benefits of online support communities for knee replacement patients >>
Filed Under: Knee ReplacementRecovering from Knee Replacement
More Knee Articles & FAQs