←

BACK TO STORIES
BoneSmart Spotlight: Craig Raucher (2022 update)
New Subacromial Balloon shoulder
surgery was a winner for Craig in 2022.
Craig Raucher is still on the basketball court at age 71 thanks to the success of one of the newest technologies for rotator cuff injuries.
As a veteran of replacement surgery on both knees, when his shoulder began hurting, Craig knew to address the problem quickly by researching available treatments and finding an excellent surgeon to help.
As Craig puts it: "I have written a number of articles for BoneSmart over the years about the critical importance of educating yourself on surgeries you may need, learning anatomy and medical terms, finding the right surgeons and hospitals, and understanding rehab for a particular procedure. Depending on the advice of friends or relatives should be secondary to the full and complete understanding of your surgery and recovery."
Communication with your surgeon is essential. Educating yourself is easier these days with the availability of BoneSmart's website and forum, internet research, and YouTube videos available on just about anything. Craig's method of gaining as much knowledge as possible up front is a great way to enable meaningful conversations with your doctors. His guidance: "When surgeons use terms you aren't familiar with, ask them to explain and write them down to Google them later. Don't just shake your head as though you fully understand what is being said because in most cases the surgeon will be speaking a foreign language! We spend more time these days with texting or social media sites than on doing the essential homework on issues of personal health and prolonging life in a pain free manner."
So when Craig began looking at options for relieving his shoulder pain, he was immediately drawn to Stryker's unique Subacromial Balloon (SAB), which is designed to help heal damaged rotator cuff muscles. This technology has only been in use in the USA since 2021, but was successfully used in Europe for over 10 years before that. He met with Dr. Gregory Montalbano on Staten Island in New York who was proficient in the procedure and had his surgery on May 20, 2022.
A little history…. As the founder of the Staten Island Basketball League in 1980 (www.sibl.us), Craig was actively pursuing his dream of playing hard-nosed, competitive sports well into his senior years. In 2019, he experienced a massive tear in the supraspinatus muscle of his left shoulder. He also had complications with tendons and other muscles that made playing basketball very painful. "When I tried to shoot the ball, I would get excruciating pain in my shoulder and arm. My range of motion was limited. I could shoot with my right arm, but with every movement I would get pain that radiated into my left shoulder. Rebounding, passing the ball, or when someone ran into me made me see stars from the pain. I could not raise my left arm above my head at all and sleeping on that side was just a distant memory. I was hoping I would be able to have this new procedure to heal my shoulder."
What does the Subacromial Balloon procedure involve? With the Subacromial Balloon procedure, an orthopedic surgeon arthroscopically inserts a small balloon into the space between the acromion and the head of the humerus in the shoulder. Once it's positioned, the balloon is filled with saline solution. It then acts as a buffer to help diminish pain and allow damaged muscles and other soft tissues to heal. The saline dissipates in about 12 months and the balloon disintegrates. For patients who are good candidates for this treatment, it can replace a painful rotator cuff repair procedure with a simpler arthroscopic surgery and an easier recovery. Physical therapy usually begins approximately 4 weeks after surgery and may continue for several months – less total time spent in rehab than with most rotator cuff repairs.
An ambitious recovery plan. Prior to his shoulder injury, Craig was playing full court basketball three times a week with guys who are decades younger. His goal was to get back to this high level of activity as fast as possible, as he relished the time he spent with his beloved sport and the friendly competitive spirit that flourished within the group. Rather than suffer through 8 months or more of painful recovery and rehab with traditional rotator cuff repair surgery, Craig was hoping to be back playing competitively in 5 months.
Five days after surgery, Craig was reporting only moderate pain. It dramatically lessened in his second week. One month out from his procedure, he was doing so well, he was able to start therapy. By three months post-op, Craig had obtained full range of motion in his shoulder and was exercising it on a daily basis. As he was making progress, other patients in rehab were amazed at his range of motion and low pain levels. But even though he was advancing ahead of schedule in recovery, Craig opted to keep his original 5-month target to rejoin competitive play on the court, just to be sure he was ready for all that action. It was a wise choice, his surgery was a success, and he's back in the game once again.
The Subacromial Balloon Procedure is definitely the reason Craig was able to return to the court so quickly. But he also credits his extensive search for a skilled therapist as the final piece to his post-op wellness puzzle. Although New York City had many therapy options available, he chose Jag-One Physical Therapy specifically because of information he found during his internet search about the facility, it's director (Steven Barth), and the clinic staff. Before his surgery, Craig made a trip to the therapy clinic to discuss his procedure and develop a recovery plan with Steven and his therapy team.

"I just hoped to get into the best shape possible so I could continue to play for a few more years.
I didn't want to leave the game as a broken-down relic, but to retire gracefully and strong.
Now I'm thinking 70 is the new 50!"
Way to prove that you're only as old
as your joints feel, Craig!
BoneSmart Spotlight: Craig Raucher (2020 update)
Still crushing it on the basketball court ten years after both knees are replaced!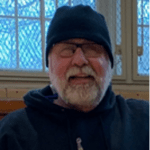 A couple of years ago, Craig Raucher (username raucher on the forum) was featured in our BoneSmart Spotlight with a glowing account of his successful knee replacements. You can read that inspiring story below this update and see that after his knees were replaced, Craig was able to return to playing full court competitive basketball, frequently with much younger guys.
As we close 2020, Craig is back with an update on how he's doing now that his knees are 7 and 10 years old. The short story is at 69 years old he's still going strong and enjoying his favorite sport! He continues to be an avid proponent for knee replacement surgery and the benefits it can bring mentally, physically, and emotionally to a person's life. Craig credits the Hospital for Special Surgery in New York and his surgeon, Dr. David Mayman, for his continued success.
Craig is the founder and Commissioner of one of the oldest basketball groups in New York City. The organization will mark its 41st year in 2021. During its history, the Staten Island Basketball League (website: www.sibl.us) has seen over 350 players walk through the doors of the historic school building where they play.
Playing on this beautiful court transports you back to a different time and offers a bit of a Fountain of Youth for those who compete here. The players are from all walks of life, different religions and nationalities, all with the same desire to win and stay on the court. They are rocket scientists, detectives, grad students, businessmen, fire department lieutenants, teachers, physician's assistants, construction workers, politicians, lawyers and more – glued together for the love of the game.
Up until the Corona virus hit in March and the league was forced to close down, Craig played full court competitive basketball 3 time a week, with each session spanning several hours.
As Craig describes it:
"I have no issues with range of motion. No soreness, pain, or stiffness. I have stayed in fairly good shape over the years by working out, running on a treadmill, stretching, lifting weights, and other physical activity. The average age of the League's players is 40 years, so at age 69, I must be able to compete strongly or not play at all. It is true that I am not as resilient as I was years ago and I do not have the same stamina, but I am a good shooter, rebounder, and defender and I play every aspect of the game competitively."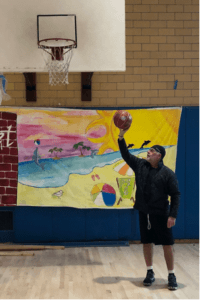 "Having my knees replaced was one of the very best medical decisions I have ever made. I was in constant pain, limping around, stiff, and generally miserable. As a long-time basketball player and jogger, both my knees were operated on over the years and I lost all cartilage. The pain from arthritis was almost unbearable."

Craig stresses that the surgery alone is only one component of his success. Equally important is the pre-op work he put in to get himself in the best possible condition followed by a structured post-op exercise program to regain strength and flexibility. This was key to him getting back to where he wanted to be – on the basketball court with full range of motion in his knees.
Like many people facing the decision of having total knee replacement surgery, Craig concedes it can be scary and overwhelming. However, he stresses that if you do your research into a great surgeon and hospital and understand the huge benefits to the quality of your life, it is a decision that will have a profound positive effect on your quality of life. This philosophy fits whether a person enjoys 3 hours of competitive basketball multiple times a week or just wants to enjoy simple day-to-day activities without feeling miserable.
For the first 2 weeks Craig worked with a home therapist and had a nurse monitoring his progress. By week 3 he was ready to transfer to outpatient therapy to up the intensity a bit. Formal therapy was done 3 times a week for many weeks and in between sessions he walked slowly on his home treadmill. After several months, Craig made his first appearance at the gym and gradually began to use the machines to build both upper and lower body strength. He incorporated stretching statically, bands and kettle bells into the program as he went along. At each step, Craig was careful to make sure that none of the exercises resulted in significant pain or increased swelling. It was a slow, steady process of increasing strength and agility.
And now, Craig has even more reason to keep his knees in good shape – a brand new grandson! We look forward to seeing this little guy on the court with Grandpa one of these days soon.
To watch Craig and other members of the Staten Island Basketball League in action, check out this YouTube video:
https://www.youtube.com/watch?v=W-TuQzZQyTU
 and this one showing Craig (in the gray t-shirt) taking some great shots during a game of horse. Notice how smoothly those knees are working!
https://www.youtube.com/watch?v=MVn7dH_bz0E


Website: http://www.sibl.us/
Questions/Comments
If you have questions or comments you'd like to make regarding Raucher's Spotlight story and his recovery, please click on this link and post in his recovery thread on the BoneSmart forum.
https://bonesmart.org/forum/threads/both-knees-replaced-and-back-to-basketball.52040/
BoneSmart Spotlight: Craig Raucher
"I am a living, breathing and playing testimonial to the idea that if you find the right surgeons, the right hospitals and add a very high level of determination, you can play basketball competitively after your knees are replaced."
…..Craig Raucher
1986 – Craig Raucher,
Captain of DHL Airways
Airport League – Champions
The court is no place for a guy with bad knees!
For Craig Raucher (username raucher on the BoneSmart forum), playing competitive basketball was always a part of life. But eight years ago at the age of 59, he was definitely in the typical age window for having his knees replaced, especially given his long and rich history with the sport. Now, at the age of 67 and with two knee replacements behind him, he's back playing full-court basketball three times weekly not only with his contemporaries, but also with friends who are decades younger.
While spending more than 30 successful years in the transportation industry, Craig also pursued his life's passion – basketball. He's played organized and college basketball for more than 50 years and is the founder and Commissioner of the Staten Island Basketball League. This well-known organization at Public School 8 in Great Kills, Staten Island began in 1980. It's the oldest and longest running group at the same location in the history of the New York City school system. Ages of the players range from 40 to 70 and the league is run in a most unique way. The participants are seasoned hoopsters who played in high school or college or in leagues for years. During each three-hour session on Monday and Wednesday nights and Saturday mornings most of the guys play six full-court games. It is a great workout and a highly competitive experience.
During his lifetime, Craig had many knee surgeries due to injuries from basketball and running. Eventually he got to the point where he needed both knees replaced as the pain was unbearable. As Craig puts it, "My quality of life was not good. As an aging athlete, basketball and working out defined my nature and were my shield against growing old. And now I was basically sidelined from both!"
The quest begins for a solution
In his search for help with his knee pain, Craig sought out surgeons in the New York City area. During those initial consultations, he was told straight out that he would never play competitive full-court basketball again. When he asked why not, the doctors replied they never had a patient with one – let alone TWO – total knee replacements come back and play full-contact, full-court basketball at the intensity Craig was used to. So even before he started on his knee journey, Craig was told he could not do something that he loved. He silently vowed to write a completely different ending for his recovery. "I listened to what they had to say, but I was determined to get back to playing my sport at a high level regardless of what I was told." This determination led Craig on a recovery journey that, although not appropriate for everyone, worked very well to get him back in the game. His goal was to defy the odds.
Craig's approach to knee replacement surgery and recovery involved extensive research and some hard work physically to get himself in shape for what was to come. Prior to both surgeries, he spent months in the gym, worked with a therapist and exercised at home to strengthen his leg muscles. He worked primarily on the four quadriceps muscles in the thigh using a treadmill, bands and weight machines – all under the guidance of his physical therapist.
While he was investigating surgeons, implants and hospitals Craig discovered BoneSmart. He began to read the extensive information available on the forum and website as well as the threads detailing others' experiences with knee replacement surgery. "For people looking at this type of major surgery with its rehab that can be intensively painful, as well as mentally and emotionally challenging, it's difficult and depressing enough. But add in the negative assessment of my future outlined by the surgeons I talked to and the road ahead became frightening. I was thankful to have found BoneSmart and I've been reading it since 2010. It is unique and has great content!"
Structured approach to
pre- and post-surgery conditioning
Craig's biggest question was why many people never fully regain their range of motion after knee replacements. He noted that even the specialists didn't seem too concerned with pre-conditioning and getting your body ready for the challenges ahead in recovery. He became a firm believer in the idea of strengthening muscles he would depend on in recovery. Craig reasoned that lacking muscle tone could make recovery more difficult and a longer process. So, even though there are no guarantees with recovery, he decided to give himself all the opportunities for success he possibly could. And for Craig, this was a winning formula! "I worked hard in the gym months before the first TKR and hard months before the second TKR. I worked on a variety of the machines in the gym to strengthen all my leg muscles, especially the 4 quads."
Craig's total knee replacements were done by different surgeons about two years apart. The first by Dr. Scott Marwin (NYU Langone Orthopedic Center) was at 59 years old and the second by Dr. David Mayman (Hospital for Special Surgery) at the age of 62. Both surgeries went well, but he had an especially good experience with post-surgery pain management at the Hospital for Special Surgery. One day in the hospital, then he was released and on his way to recovery!
Once Craig was home, he maintained a strict recovery regimen in addition to his therapy:
Frequent icing with an ice machine during the daytime to minimize swelling
Use of a combination of prescription medications and over-the-counter pain and inflammation medications for several months to control pain and swelling
Daily sessions with a Continuous Passive Motion (CPM) machine to keep his knee moving and gradually increase his flexion
For the first 2 weeks Craig worked with a home therapist and had a nurse monitoring his progress. By week 3 he was ready to transfer to outpatient therapy to up the intensity a bit. Formal therapy was done 3 times a week for many weeks and in between sessions he walked slowly on his home treadmill. After several months, Craig made his first appearance at the gym and gradually began to use the machines to build both upper and lower body strength. He incorporated stretching statically, bands and kettle bells into the program as he went along. At each step, Craig was careful to make sure that none of the exercises resulted in significant pain or increased swelling. It was a slow, steady process of increasing strength and agility.
Happy Hoop Day!
Six months after the second knee replacement, the big moment came. Craig was ready to start shooting some hoops. About 9 months after the surgery he resumed playing full court basketball three times a week. He had successfully worked his way up to the grueling 3-hour sessions with men 25 years younger. And much to his joy, he and his knees were holding their own in the games!
In the years since this recovery milestone, Craig has continued to play full-court competitive basketball on Mondays, Wednesdays and Saturdays plus coaching and managing the Staten Island Basketball League. This tallies up to more than 1500 games and active court time well in excess of 18,000 minutes. "Add to this the hundreds of hours on the treadmill and the time I spent on the leg weight machines putting pressure on my knees … and I feel powerful! Several of my basketball friends have approached HSS to seek consultations and operations for legs and hips as I have become a walking, talking, playing advertisement for this type of surgery. I always tell them the same thing: I was very fortunate to have found an excellent orthopedic surgeon in Dr. Mayman and that I was blessed to have found a great hospital. How many guys my age do you know that can play aggressively and at a high level even without having knee replacements?"
A positive outlook is critical for success
His aggressive approach to rehabilitation and positive mental attitude combined with his doctor's surgical skills helped Craig achieve his goal of returning to basketball and the life he loves. He may be unusual in his physical, mental and emotional intensity during rehabilitation from his knee replacements, but playing basketball serves as Craig's means for maintaining mobility and health as he ages.
We'll let Craig's own words finish out his remarkable story:
"These successes with my knee replacements go hand in hand with the way I have lived my life – maintain a positive outlook, be aggressive in business and in sports, and respectfully question people who claim to be experts (like surgeons). The human spirit and the will to succeed trumps all. Knee replacement surgery is one of the scariest operations to face, but your fear can be mediated in many ways with information that you receive from great resources like BoneSmart. Ask questions and get involved with your treatment. Find out the "why" of everything!"
2015 – Welcoming the sunrise with Mom in Florida
Questions/Comments
If you have questions or comments you'd like to make regarding Raucher's Spotlight story and his recovery, please click on this link and post in his recovery thread on the BoneSmart forum.
https://bonesmart.org/forum/threads/both-knees-replaced-and-back-to-basketball.52040/